About a specialist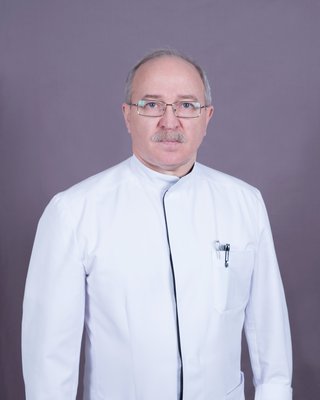 Urologist, Ultrasound Test Physician, Honoured Doctor of the Russian Federation. Length of service: since 1979.
Urologist
High-level certificate
Professional skills and experience
The latest methods of diagnosing diseases of the urogenital system (ultrasound, endoscopic, X-ray)
Diagnostic and treatment operations under ultrasound control (percutaneous puncture nephrostomy, transrectal prostate biopsy, puncture biopsy of renal and retroperitoneal formations)
Endoscopic procedures (cystoscopy, ureteroneopylostomy, ureteral stenting, contact lithotripsy, transurethral resection of the prostate and bladder, etc.)
Main types of urologic surgery on the kidney, ureter, bladder, male genital organs (cystrostatectomy, reconstructive surgery of the upper urinary tract, nephrectomy, nephrostomy, kidney resection, removal of calculus from different parts of the urinary tract, cystostomy, adenomectomy, radical prostatectomy, bladder resection, minor urologic surgery)
Education and advanced training
2018

Since 1988 till present - regular attendance of advanced training and professional retraining courses in specialties: «Urology», «Ultrasonic testing»

2011

Institute of Postgraduate Professional Education "Federal Medical Biophysical Centre named after A.I. Burnazyan, FMBA of Russia, specialty «Ultrasonic Testing».

1986-1988

S.M. Kirov Military Medical Academy, Faculty of Medical Management (1986-1988), specialty «Urology»

1981

65th internship of medical staff, GSFG (Group of Soviet Forces in Germany), specialty «Surgery».

1979

S.M. Kirov Military Medical Academy, Faculty of Medical Education — specialty «Medical Care».
Practical experience
2010 till present

Urologist of the Department of Surgery, Branch No. 2, FBUZ Russian Ministry for Economic Development Treatment and Rehabilitation Centre, Department of Out-patient Surgery and In-patient Department

2006-2010

Head of the urology room, out-patient clinic of OAO Gazprom

1988-2006

Senior registrar, head of the Department of Urology, Leading Urologist, 2nd Central Military Clinical Hospital named after P.V. Mandryk. Head of the urologic services of the main base and branches of the hospital