About a specialist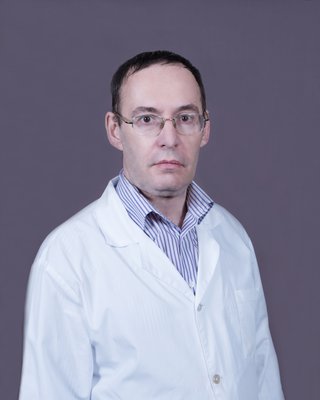 Shtutman Vladimir Zinovyevich, Rheumatologist. Length of service: since 1989.
Rheumatologist
High-level certificate
Candidate of medical science
Diagnosis, treatment and prevention of inflammatory and degenerative musculoskeletal diseases: joints, spine, tendon and ligaments
Diagnosis and treatment of pain of various origin in joints and different regions of spine
Medical care upon limited mobility of joints, spine, swelling and reddening of joints, muscle weakness
Comprehensive and interdisciplinary approach to treatment of diseases:
- osteoarthritis, osteoporosis;
- arthritis: rheumatoid, gouty, reactive, psoriatic;
- ankylosing spondylitis (Bekhterev's disease);
- scapulohumeral pathology;
- systemic scleroderma, systemic lupus erythematosus, systemic vasculitis;
- Raynaud's syndrome;
- polymyositis, dermatomyositis, erythema nodosum;
- rheumatic polymyalgia, etc.
Education and advanced training
2017, 2012, 2007, 2002

Advanced training

2013

Received High-Level Certificate

2003

Assigned Category 1
Publications
Idiopathic inflammatory myopathies. Clinical rheumatology 1996,4, 10, 17. Coauthors E.L. Nasonov et al.
Serum Neopterin upon Idiopathic Inflammatory Myopathies. Clinical Medicine 1997. Coauthors E.L. Nasonov et al.
Clinical and Immunological Heterogeneity of Idiopathic Inflammatory Myopathies Clinical Medicine 1995;2:3-8. Coauthors E.L. Nasonov et al.